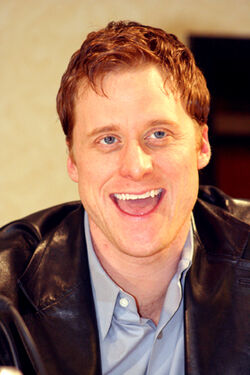 Alan Wray Tudyk (born March 16, 1971) is an American stage, film, and television actor. Tudyk was born in El Paso, Texas and raised in Plano, Texas, where he attended Plano Senior High School. Tudyk studied drama at Lon Morris College (winning the Academic Excellence award for Drama) and Juilliard. He portrays Hoban Washburne on Joss Whedon's Firefly. He collaborated with Joss again on Dollhouse, and appeared in the Morena Baccarin-led reimagining of V.
External links
Edit
Ad blocker interference detected!
Wikia is a free-to-use site that makes money from advertising. We have a modified experience for viewers using ad blockers

Wikia is not accessible if you've made further modifications. Remove the custom ad blocker rule(s) and the page will load as expected.