Arrowhead-class Courier
General Plans and Schematics
Class

Arrowhead-class

Type

Courier

Statistics
Price

12,600 credits

Maintenance costs

360 credits per year

Maximum weight

400 tons

Cargo capacity

70 tons

Fuel capacity

7.5 tons (600 hours)

Crew capacity

2

Passenger capacity

2 (second-class)

Carried vessels

6 escape pods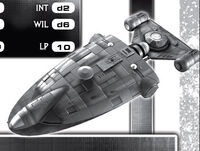 The Arrowhead class Courier is an older model shuttle, favored by forces of the Independent Planets during the Unification War due to the ease with which they could be modified into gunships. Since then these vessels can more often be found for sale used.[1]
Notes and references
Edit
Ad blocker interference detected!
Wikia is a free-to-use site that makes money from advertising. We have a modified experience for viewers using ad blockers

Wikia is not accessible if you've made further modifications. Remove the custom ad blocker rule(s) and the page will load as expected.