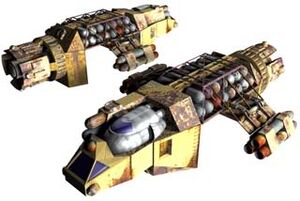 The Ivonovich Yards CL-54 Mogushchestvenniy (Mighty) Cargo Lifter is in wide use across the 'Verse, from construction sites to small shipping firms. When short-haul, dependable transport is needed, it's frequently this boat filling the role.
The boat has earned a reputation for itself that it simply won't die. Its ability to keep running in adverse conditions surpasses even the legendary Firefly-class transport ship. Because of this, many of the CL-54s seen seem to be nothing more than an assembly of various kinds of rust. The boat ain't pretty, but it is dependable, and as ubiquitous as Blue Sun.
The boat can carry 8 standard cargo containers (loaded to a maximum of 240 tons), or handle larger cargo systems. A popular option (seen in the deckplans) is a passenger dorm level above and bulk storage below, using the main airlock for unloading.
Stairs to the crew deck level in the main airlock are retractable. Access to main engineering is through the catwalk on the shuttle level. A light cargo lift can be lowered from the ventral EVA hatch to ground level, and passes all the way to the shuttle airlock, allowing some ease in unloading cargo from the shuttle or allowing special needs passengers the ability to avoid the steep and narrow stairs.
Dimensions: 55Wx120Lx30H (width is 77 with wings fully extended)
Tonnage: 650 tons
Speed Class: 4 cruise/ 6 hard-burn
Crew: 3
Fuel Capacity: 16.25 tons (600 hours of operation)
Cargo Capacity: 120 tons (240 in cargo configuration)
Passengers: 5 first-class or 10 second-class (0 in cargo configuration)
Price: 10,400 credits new (520 with major 'Seen Better Days')
Maintenance Cost: 520 annually (1040 with major 'Seen Better Days')
Gear: Standard 20-ton shuttle
Ad blocker interference detected!
Wikia is a free-to-use site that makes money from advertising. We have a modified experience for viewers using ad blockers

Wikia is not accessible if you've made further modifications. Remove the custom ad blocker rule(s) and the page will load as expected.