Dr. Caron
Biographical information
Gender

Female

Hair color

Brown

Occupation(s)

Doctor

Statistics
Affiliation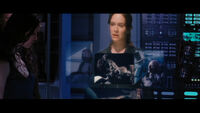 "I won't live to report this, but people have to know we meant it for the best, to make people safer."
―Dr. Caron's last words before her death
Dr. Caron was a member of the research and rescue team that investigated the strange happenings on Miranda. Her recording of the event noted the Alliance's inadvertent creation of the cannibalistic, xenophobic band that would become known as the Reavers. She correctly identified the reason why millions died, and several thousand became irreconcilably insane: the G-23 Paxilon Hydrochlorate chemical that was added to the planet's air processors had unforeseen effects. As she explained this, the Reavers managed to get into the Miranda and began slaughtering the research team.
As she finished her recording, the Reavers managed to enter the room. Faced with capture, she pointed her pistol to her head to commit suicide. However, before she could pull the trigger, the Reavers disarmed her and took her to the ground, brutalising and eventually killing her.
Behind the scenes
Edit
Dr. Caron was portrayed by Sarah Paulson.
Appearances
Edit
Ad blocker interference detected!
Wikia is a free-to-use site that makes money from advertising. We have a modified experience for viewers using ad blockers

Wikia is not accessible if you've made further modifications. Remove the custom ad blocker rule(s) and the page will load as expected.