""Yep. It's a cow fetus."
"Guess so... Does seem to have an awful lot of limbs...But cow? How do you figure?"
"It's upside down." "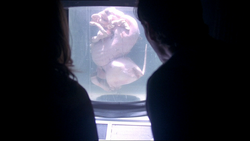 A mutated cow fetus nicknamed Dead Bessie by Kaylee, or as The Alien by the Fetus' owner, was masqueraded as an Alien by its owner to make a profit. It was held in a large tank that often bubbled.
Appearances
Edit
Ad blocker interference detected!
Wikia is a free-to-use site that makes money from advertising. We have a modified experience for viewers using ad blockers

Wikia is not accessible if you've made further modifications. Remove the custom ad blocker rule(s) and the page will load as expected.