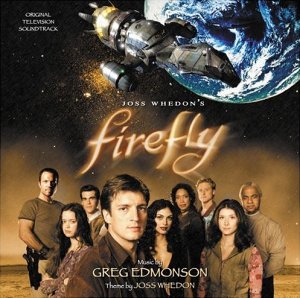 The Firefly soundtrack was composed by Greg Edmonson, with the exception of the main theme which was composed by Joss Whedon. The album was released on November 8, 2005, by the Varese Sarabande label.
Tracklist
Edit
Firefly - Main Title
Big Bar Fight
Heart of Gold Montage
Whitefall / Book
Early Takes Serenity
The Funeral
River's Perception / Saffron
Mal Fights Niska / Back Home
River Tricks Early
River Understands Simon
Leaving / Caper / Spaceball
River's Afraid / Niska / Torture
In My Bunk / Jayne's Statue / Boom
Inara's Suite
Out Of Gas / Empty Derelict
Book's Hair / Ready For Battle
Tears / River's Eyes
Cows / New Dress / My Crew
Boarding The Serenity / Derelict
Burgess Kills / Captain & Ship
Saved / Isn't Home? / Reavers
Reavers Chase Serenity
River's Dance
Inside The Tam House
Dying Ship / Naked Mal
Ad blocker interference detected!
Wikia is a free-to-use site that makes money from advertising. We have a modified experience for viewers using ad blockers

Wikia is not accessible if you've made further modifications. Remove the custom ad blocker rule(s) and the page will load as expected.