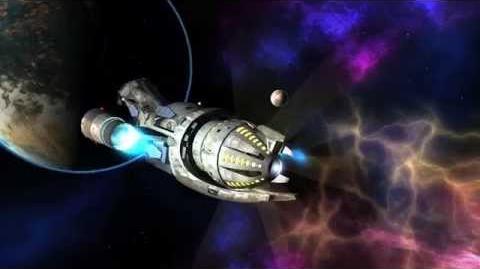 Firefly Online is a strategic role-playing video game in development for Windows, Mac OS, iOS and Android platforms. The Mac and Windows versions will be available through Steam. It is being developed by Spark Plug Games and Quantum Mechanix.
The MMORPG is based on the 2002-'03 Fox Television's Firefly franchise. The game was originally scheduled for a Summer 2014 release but was pushed back to Spring 2015 after the announcement that a dozen actors from Firefly had or would be recording dialogue for the game.[1] On February 23, 2015, Wil Wheaton announced that he would be recording lines as the male avatar for the player.[2]
Tim Earls, designer of the Firefly-class transport ship and most of the ships in the series, as well as lead set designer on the Serenity film, designed the Kepler. It is a transport ship created exclusively for the game. This was initially a bonus available only to players who bought an early-access premium package called "Founders of The Verse". That package has been discontinued, but the ship will become the starter vessel for all players who register for an account before the end of August 2014.[3]
External Links
Edit
References
Edit
Ad blocker interference detected!
Wikia is a free-to-use site that makes money from advertising. We have a modified experience for viewers using ad blockers

Wikia is not accessible if you've made further modifications. Remove the custom ad blocker rule(s) and the page will load as expected.