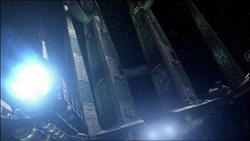 The I.A.V. Magellan was an Tohoku-class cruiser where Shepherd Book got his wounds treated in the cruiser's infirmary. It was positioned more than an hour away from Jiangyin. The vessel's captain was initially dismissive of Book's situation, but immediately changed his mind when he observed Book's IdentCard. The crew of Serenity was sent on its way from the Magellan after Book's surgery without trouble, which was a completely unexpected outcome for them.
Appearances
Edit
External Links
Edit
Ad blocker interference detected!
Wikia is a free-to-use site that makes money from advertising. We have a modified experience for viewers using ad blockers

Wikia is not accessible if you've made further modifications. Remove the custom ad blocker rule(s) and the page will load as expected.