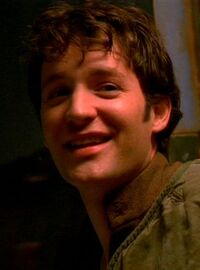 Jonathan M. Woodward is an American actor. Woodward is one of the few actors and actresses to have crossed over onto three series created by Joss Whedon: Buffy the Vampire Slayer, Angel, and Firefly. He appeared as Holden Webster in the Buffy the Vampire Slayer episode "Conversations with Dead People", as Knox in the fifth season of the series Angel, and as Tracey Smith in Firefly episode "The Message". All three characters appear friendly or helpful when first introduced, but are eventually killed by the series' protagonists.
External links
Edit
Ad blocker interference detected!
Wikia is a free-to-use site that makes money from advertising. We have a modified experience for viewers using ad blockers

Wikia is not accessible if you've made further modifications. Remove the custom ad blocker rule(s) and the page will load as expected.