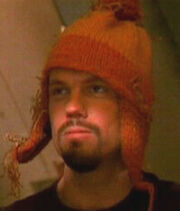 Radiant Cobb was Jayne Cobb's mother. Among the mail she sent to her son through the Alliance postal service was a knitted cap in shades of orange, with earflaps and a small pom-pom on top. Jayne frequently sends her the money he earns in his travels.[1]
In addition to being the mother of Jayne Cobb she also took care of Mattie.[1]
Appearances
Edit
Notes and references
Edit
↑ 1.0 1.1 Firefly – "The Message"
Ad blocker interference detected!
Wikia is a free-to-use site that makes money from advertising. We have a modified experience for viewers using ad blockers

Wikia is not accessible if you've made further modifications. Remove the custom ad blocker rule(s) and the page will load as expected.