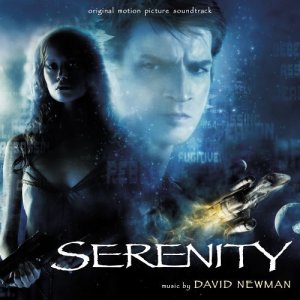 The soundtrack for the Serenity movie was composed by David Newman, and released in October 2005 by Varese Sarabande records.
Track List
Edit
Into the River (3:10)
Escape (1:30)
Serenity (:50)
Going for A Ride (2:24)
Trading Station Robbery (3:07)
River Goes Wild (1:28)
River and Simon in Locker (:55)
Population Dead (3:55)
Haven Destroyed (:54)
Shepherd Book's Last Words (1:00)
You're Not A Reaver (:56)
Mal Decides (3:09)
Truth / Mal's Speech (3:36)
Space Battle (3:21)
Crash Landing (1:59)
Run to Black (2:55)
Generator Room (3:06)
Mal & Op Fight (2:11)
Jayne & Zoë / Final Battle (2:44)
Funeral / Rebuilding Serenity (2:19)
Prep For Flight (1:33)
Love (1:06)
End Credits (1:38)
Ad blocker interference detected!
Wikia is a free-to-use site that makes money from advertising. We have a modified experience for viewers using ad blockers

Wikia is not accessible if you've made further modifications. Remove the custom ad blocker rule(s) and the page will load as expected.