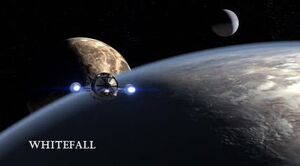 The fourth moon of Athens of the Georgia system is Whitefall, a large percentage of which was owned by a woman named Patience. Whitefall was said to not be civilization "in the strictest sense." The crew of the Serenity visited Whitefall hoping to sell their cargo to Patience.[1] It was rumored that there is a Blue Sun facility underneath one of the mountains.
The K-3 Mining Post of Whitefall was destroyed by Alliance men who were sent by the Operative during the events of Serenity. It was one of many locations targeted by the Operative in his effort to prevent his "quarry" — the Serenity crew with River Tam — from finding any shelter. Malcolm Reynolds discovered that his contacts at Whitefall and many other places were attacked when he summoned their live video feeds, and then had a verbal confrontation with the Operative on a secret channel.
Appearances
Edit
Notes and references
Edit
Ad blocker interference detected!
Wikia is a free-to-use site that makes money from advertising. We have a modified experience for viewers using ad blockers

Wikia is not accessible if you've made further modifications. Remove the custom ad blocker rule(s) and the page will load as expected.